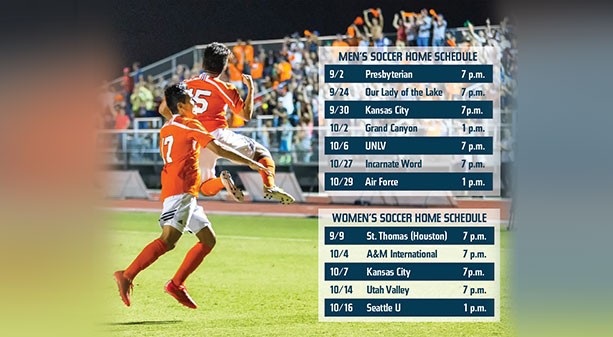 The UTRGV women's soccer program is set to enter its third year of existence with a more set roster than in the past. "The players have set a standard," UTRGV head coach Glad Bugariu said. "The team itself is at a good point now. I think the sky's the limit from this point forward."One of the reasons for optimism has been strong play during the presea-son. After a successful spring that saw multiple student-ath-letes take a step forward, the team returned ready to go from day one this fall."We're working very hard. We've really embraced the learning process," Bugariu said. "The team's been working at a high standard. Overall, we're making great strides this year."UTRGV's main strength last year was de-fense, as the back line of Frida Farstad-Eriks-son, Tuva Rolstad Nilsen, Evelyn Powell, Marcela Ramirez and Malia Irvine, who also saw time up the field, was virtually impen-etrable. When attackers did get shots off, the goalkeeping duo of Erica Gonzalez and Maria Eriksen was there to make the saves.
This year, the defensive line remains intact and UTRGV adds another strong goal-keeper in Kinga Szemik, the starter on the European Champion Polish National Team. UTRGV has arguably the deepest goalkeeping situation in the WAC.Knowing that they have a strong defense, UTRGV will allow midfielders like Sheridan Becanic, Allyson Smith and Hanna Spets to control the pace of play and set-up attack-ers like Diandra Aliaga, Andreya Barrera and newcomers Diana Ansah and Sarah Bon-ney from the U20 Ghana National Team. "Hopefully, we can see a style of play that's a little more open, a little more ex-pansive, and a little more possessive to create more chances and not so much defensive and counter attacking," Bugar-iu said. "I think we've now gotten enough quality on the side where we can expand a little bit and play a little more of the soc-cer that we all like to see.
"The UTRGV men's soccer team has only been together for about two weeks, but after several two-a-days and pair of exhibition matches, this team is ready to take a step forward during its second year back from an 18-year hiatus. "It's been a busy preseason. The boys have been working very hard," UTRGV head coach Paul Leese said. "We've got a lot of new players coming in this year, so we're trying to in-tegrate them all into our team concept and our style of play. They've come in and started off very sharp and very fit, and that just helps everything else move along more quickly."UTRGV has nine new faces this season, including Michael Faber, Jaakko Hietikko, Ili-as Kosmidis, Angel Lopez, Sergio Loredo Jr., Juanito Ramirez, Damian Ro-szczky, Mauricio Sanchez and Hubert Wolak.
A number of key players return this year, including the top two scorers in Isidro Martinez (2-5-9) and Garcia (3-2-8). As a freshman, Martinez ranked fifth on the team in minutes played (1,320). "I think we've got a couple of young guys who were freshmen last year like Isidro and Isaiah (Hinds) who benefited so much from their first year on the team, especially being in a program where they got a lot of experience and playing time last year," Leese said. "They've come in stronger and fitter and I think more focused to be successful."UTRGV played two exhibition matches during the preseason, which gave Leese and the rest of the coaching staff a chance to see their team in action against another team. Ad-ditionally, it gave the players a chance to get used to being in an 11-man shape together."It's so important, especially with the new players that just arrived, to give them a real big picture look at how we try to play," Leese said. "They get to see their teammates alongside them and how they like to play and receive the ball, so it was good. We had a couple of different teams in each game and each half. It gives us a better chance to see who can do what and who plays well together."