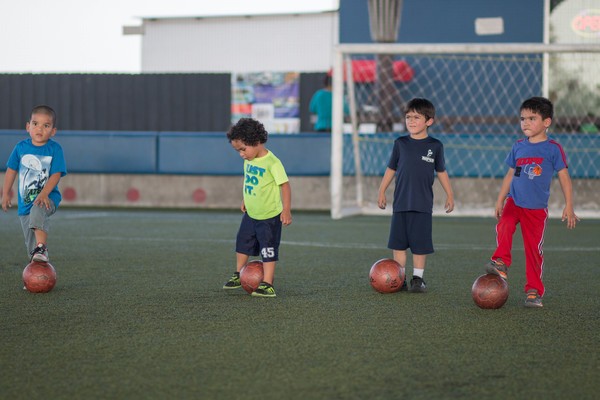 When you enroll a child to a soccer academy, you expect them to be taught techniques and discipline that will make them better soccer players, whether they hope to one day be professionals, or simply enjoy the game for fun or as an extracurricular activity. At Plaza Sports Center, you can be sure they are learning exactly the techniques they need to at the appropriate age to build their skills as they grow as players. However, they will learn more from the game than you will be able to see watching them score goals and move the ball down the field. Soccer and playing on a team builds character, and the younger children are welcomed to the game, the more the following lessons will become second-nature to them. You may even notice their behavior changing.
Alma Caso, CEO at Plaza Sports, shares that their philosophy towards soccer is not highly competitive; it is inclusive. The coaches at Plaza do not believe in focusing on scores, winning, and making the children obsess over the game. Instead, they think that having pride in good technique will bring the child satisfaction over a longer period of time and encourage them to better themselves at their own rate and to their own goals. Losses are presented as an opportunity to do better next time, and the notion that learning and improving is possible is reinforced instead of focusing on "natural talent." This also takes pressure off each individual child as they do not feel like they have "let the team down" if they miss a shot as long as they tried their best.
As they are guided to practice certain techniques and exercises, the child will see that practice and hard work over time will result in a reward: more skill on the field. As the child learns that this is the way it works in soccer, Caso believes they will learn to apply the same self-pride to other aspects of their life, from applying themselves at school to subjects they struggle with, to interacting with peers in collaborative, rather than competitive ways. Little Toros also offer young children an outlet for the physical energy they are bursting with. As schools reduce the amount of physical activity children do per day, cutting recess and allotted for shorter P.E. classes, some children may find themselves struggling to focus at school. They may require an outlet like the Little Toros league to help them release that energy and help them balance their mental and physical forces.
Sign Up Today! 
For kids 2 to 4 yrs of age!
Practices last 50 minutes twice a week
Parents can participate in each practice
All practices are in covered fields
Cost:

$85/Month – 2 Sessions per week
$60/Month – 1 Session per week