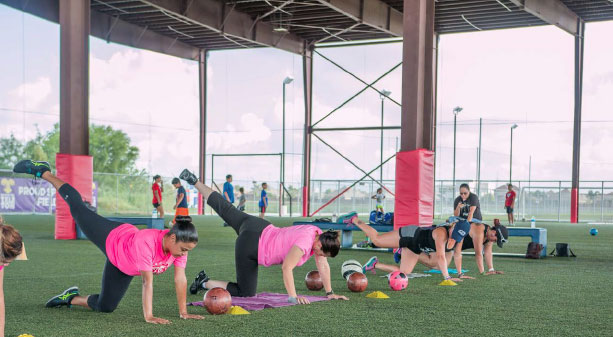 Reach a new level of fitness by training like a soccer player 
SOCCER PLAYERS ARE POWERFUL ATHLETES, POSSESSING EXTREME ENDURANCE, SPEED, FLEXIBILITY, AND AGILITY.
Now, you can train like a soccer player to unlock your own cardiovascular and muscular potential! A soccer player's fitness is the result of a carefully planned training regimen that Plaza Sports Center has modified to be attainable to any individual. You can train the way pro athletes do and see great results in your health and physique even if you've never touched a soccer ball in your life! "We do soccer drills, but we don't teach you how to play soccer," says SoccerFit coach Luis. Welcome to Plaza Sports Center's SoccerFit training program – your new favorite workout!
EXERCISING AS A GROUP
led by coach Luis and coach Christina Valdez means that you will be guided towards your fitness goals and the team spirit will keep you motivated – but coach Luis always finds a way to provide individualized attention. "We have people rotating at stations, so everyone gets a good workout," he says. "We do use a soccer ball for some exercises, but the goal is weight-loss and toning without stressing the muscles. We do a lot of whole-body workouts, like pushups, crabwalk, bear crawl, squats, lunges." These drills are routine to anyone who has played on a sports team, but the boot-camp style classes are welcoming to everyone from beginners to exercise to those already used to a higher level of intensity.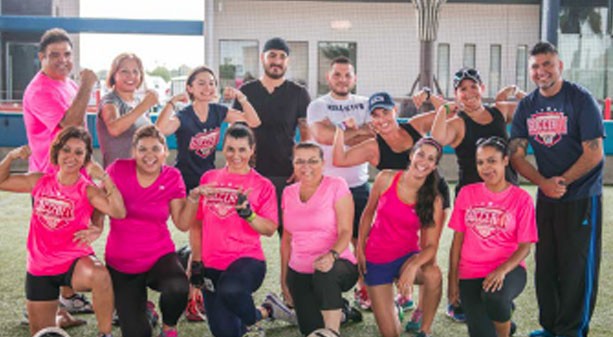 WORRIED ABOUT FALLING BEHIND?
It won't happen at SoccerFit. Everyone is encouraged to take charge of their workout and exercise at their own pace; just sit out if you need to take a break, catch your breath, and jump back in when you're ready. "We start everybody off slow," says coach Luis. "As we get older, if we haven't done exercise in a long time, we forget how, so we show people how to run and exercise correctly."
COACH LUIS HAS OVER 15 YEARS OF FITNESS EXPERIENCE, so he knows that SoccerFit is going to help you lose weight, get more condition-ing, strength, and improve your balance. "You're working out your whole body," explains coach Luis. "The number one thing people need is conditioning and cardiovascular training, which is the focus of SoccerFit.
THE SOCCERFIT GROUP WORKOUT holds a similar philosophy to cross-fit, another recently popular exercise plan. However, cross-fit practitioners lift weight while they do a workout; be-ginners to exercise should not attempt to exert their muscles this way. "In cross-fit, you can
damage your body by doing too much repetition and too much weight. Your body gets tired, and you lose form. When you lose form, you can hurt yourself. You pull your back, knees, or shoulders – common injuries in crossfit," says coach Luis.
PLAZA SPORTS CENTER'S SOCCERFIT CLASS IS A BETTER ALTERNATIVE; it is divided into conditioning, lower body, upper, and full body. The hour-long SoccerFit class does not utilize weights, instead relying on resistance from each individual's' own body, which greatly reduces the chance for an injury. He converts cross-fit enthusiasts after they experience the low-impact, highly-successful program at Plaza Sports Center, which takes place on covered artificial turf fields. Are you looking for a change? Try a free SoccerFit trial class today!
THE SOFT GROUND OF THE PLAZA
SPORTS CENTER COMPLEX REDUCES IMPACT ON KNEES EVEN FURTHER,and the cover provides shade that makes exercising quite comfortable, especially in the mornings and evenings when there is a nice breeze. Add the variety of music to which SoccerFit is set, and you have a rockin' workout. "We have music depending on what we're doing," says Coach Christina. "Some people need more motivation for certain exercises. For example, if they struggle when doing legs, we'll play some hard rock.  For cardiovascular exercises we go with fast paced tunes."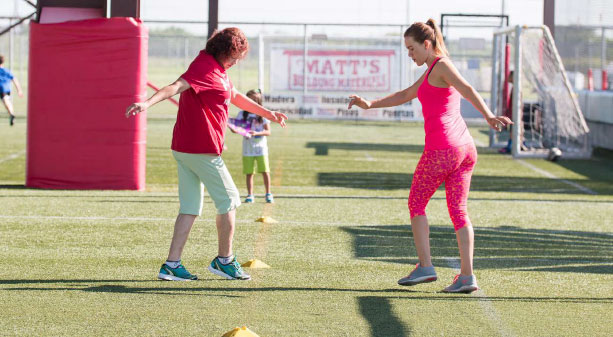 ONE OF THE MOST
IMPORTANT FACTORS IN THE SUCCESS RATE OF ANY EXERCISE REGIMEN can't happen during the hour-long SoccerFit class, but Coach Luis does  what he can to make sure his trainees go home aware of what they need to do when they're away: eat right. Each member of the SoccerFit training group gets help with nutrition, meal plans, and record-keeping. "We take measurements every few weeks; that keeps people motivated when they  see the changes," says Coach Luis.
EVERYBODY WILL SEE RESULTS, BUT SOME ARE DRAMATIC. Coach Luis has already seen tremendous success with his trainees. He has seen one man drop six pounds in only four days! Another SoccerFit devotee lost 19 pounds in three weeks, but so far the record is 36 pounds shed in a month.
"We have classes all morning long (every hour from 5 a.m. until 10 a.m. ) so you can always make it," says coach Luis. Classes are flexible, so even if you're running late you can still get your workout in. And we just started an evening class at 7:30pm. No matter the hour, SoccerFit group attendees can count on the support of their coaches. They send group texts to encourage participation and is proud when a full class shows up to work hard. Luis and Christina are happy to share their expertise with the Rio Grande Valley through Plaza Sports Center's SoccerFit classes.
"We care a lot about our people," say coach Luis & Christina.
PERFECT FOR PLAZA MOMS Is your child participating in our summer soccer academy? SoccerFIT is perfect for you! Bring your young soccer player, and they can do their summer camp while you train to great music that keeps you energized. You can pick them up at the end of the day as usual – but your workout will already be complete!