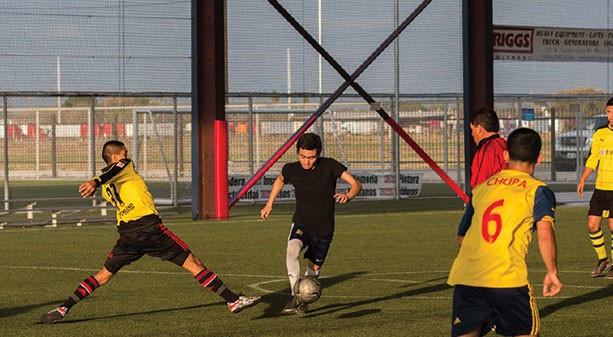 Plaza Sports Center isn't just for kids! It's great to play at Plaza as an adult! Check out some of the reasons why soccer is a lifelong activity for the whole family to enjoy.
Covered Fields
You won't melt on our two covered fields! We also have uncovered grass fields, but many players choose to practice in the shade, where it's more comfortable and safe against the blistering Texas sun.
Turf Fields
Increasingly, professionals are playing on turf fields; at Plaza you can practice like pros! A flat playing field allows for fast passing without bumps or grass affecting the ball. The give of the field reduces impact on knees, which is especially noticeable during our SoccerFIT classes. You'll always find a space to play at Plaza; we are the only facility in the RGV with four 7v7 turf fields!
Customer Service
Every member of the Plaza team is dedicated to making sure you and your family have a great time. Whether helping you find the equipment you need at our on-site store or signing you up for a class or tournament, you're treated right at Plaza.
Community
Our players come to think of their teammates as their Plaza family, and our coaches as friends. Plaza's adult leagues are a great place to connect with other players of your skill level and beyond. Play friendly games and meet players whose skills inspire you to train hard. You could even be that inspiration to a younger player!
Trained Referees
Part of the focus of Plaza's sports education is sportsmanship. To maintain fairness on the field, we employ trained referees who can help players learn respect for the rules of the game. When everyone plays by the same rules, we have more fun.
Team Discounts
We give our teams a discount who stay to eat together at Fuera de Lugar. We also offer other promotions for independent teams who want to play at Plaza. Joining Plaza's network of teams means you can find new opponents easily, so your players can see more competitive matches. Were you a Plaza team some time ago? You are always welcome to return!
Flexible Schedules
Plaza's leagues are on a fixed, regular schedule so you don't have to check when you're playing every week – you can plan ahead knowing exactly when you're playing. Classes are flexible in that you can always come to a later one if you didn't make it to your regular class. Registering for a league or tournament is also easy; our staff will help you find a time to play that works for your schedule.