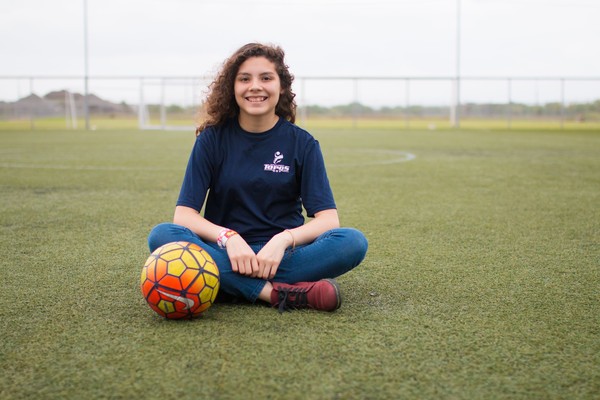 Asia Gonzalez's love for soccer began when she first learned to kick a soccer ball at five years old.Growing up, she was always attracted by the sport and yearned to play in a team. A few months ago, Asia decided that she wanted to be part of her middle school's team but worried that she lacked the experience and skill to be selected. Her family and friends suggested  she enroll in Plaza Sorts center to take her play to the next level.
As soon as Asia became part of Plaza Sorts Center, her commitment and potential were visible to her coaches and teammates. The thirteen-year old showed up day after day  ready to learn and improve."It was a really good experience. I had wanted to go there because I wanted to get better so I could tryout", explained Gonzalez. "They really helped me with the drills. Some of the drills that we practiced at Plaza Sports Center were the same as the ones we had at the tryouts, so I felt prepared."
The hard work paid off and Asia not only made the team, but also became a key player in helping her school's team become undefeated district champions. She attributes much of her success to the individualized attention and motivation that she received from Coach Chava and the other coaches at Plaza Sports Center. "The coach focuses directly on certain skills that you are having trouble with", said Gozalez. "It is more hands-on and personalized experience".
Even though the 7th grader divides her time between schoolwork, piano lessons, and karate, soccer continues to be one of the activities she enjoys the most. "I like that it's different than other sports because you can't use your hands. You have to use your upper body strength and lower body strength", explained Gonzalez. "It's also a cool way of making friends and hanging out with my team an you get to go places."
She definitely sees Plaza Sports Center as continuing to be a big part of her life in the future. She's currently enrolled to attend the summer camp program and hopes to continue playing for the women's leagues, as she gets older. Her parents have also enjoyed the welcoming environment at the center and enjoy watching Asia play her matches. Asia's success is a great example of how motivation and dedication can make you a great soccer player.